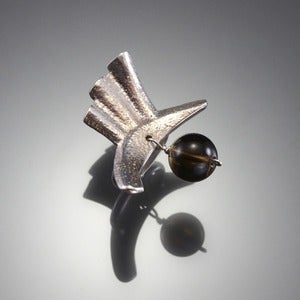 SFe Horizon Ring
$

675.00
This elegant hand-fabricated ring was made by award-winning artist David Gaussoin. It features Sterling silver and smokey quartz, and measures 1.5" x 1.5".
David Gaussoin comes from a long line of artists, including silversmiths, painters, rug weavers, sculptors, and wood workers. He creates wearable art for the body with gold, silver, and precious and semiprecious stones, as well as unconventional materials, such as steel and aluminum.
For the Beyond Buckskin Boutique, Gaussoin brings us a 'high street' collection of jewelry cut from diamond plated aluminum. Diamond plate is often used on stairs and catwalks in industrial settings (the added texture reduces the risk of slipping), but it is also used on the interior of ambulances and on the sides of firetrucks. While Gaussoin references the street, his couture pieces are clearly high fashion and high quality.
Price of shipping and handling included.